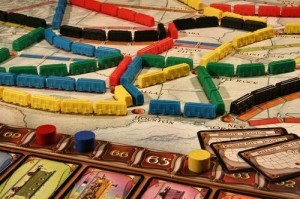 Per tutti gli appassionati di giochi da tavolo, segnaliamo che quest'anno a Pinerolo vi saranno ben due tappe delle qualificazioni per il torneo nazionale di Ticket to Ride, a cura di Asterion: si tratta di un simpatico gioco dedicato a comporre percorsi ferroviari.
Si inizia sabato 12 aprile in Piazza Verdi alle ore 15, a cura di Centro Gioco Educativo Pinerolo: per prenotarsi potete chiedere in negozio, oppure contattare il seguente numero
0121-480316
Le preiscrizioni dovranno essere effettuate entro venerdì 11 aprile.
Il vincitore del torneo finale vincerà la possibilità di partecipare, completamente spesati, ai campionati mondiali di Ticket to Ride a Parigi nel mese di settembre 2014.