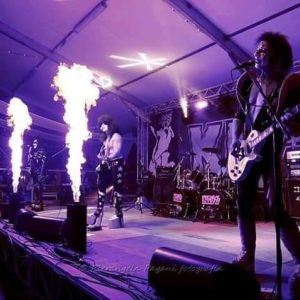 Notte blues a Pinerolo (TO) venerdì 7. Sabato 8 tributo ai Kiss con lo show dei Black Diamonds
La Tana dei Lupi di Pinerolo (TO) si prepara a un altro weekend di appuntamenti. Questa settimana spazio al blues e al glam rock con The Blues Stream Band e Black Diamonds, con due spettacoli da non perdere a partire dalle 22 (ingresso gratuito).
The Blues Stream Band salirà sul palco pinerolese venerdì 7 febbraio per uno show che ripercorre la storia della cosiddetta "musica del diavolo" dalla nascita fino ai giorni nostri, con ampie digressioni sulle sue sfaccettature ed evoluzioni. Groove inconfondibile e ampia conoscenza del genere sono le caratteristiche della band composta da Marco Dalla (voce), Alberto Reviglio (armonica e voce), Valter Gozzellino (basso), Luca Iurato (batteria), Natale Chillè (chitarra) e Simone Angeloni (chitarra).
Sabato 8 febbraio invece è tempo di tuffarsi nel mondo del glam rock con i Black Diamonds. La storica tribute band dei Kiss ripropone l'atmosfera dei concerti originali con un vero e proprio show fatto di trucco, giochi di luci, effetti pirotecnici, fiamme e una selezione musicale che copre tutto il periodo degli anni Settanta senza dimenticare i brani più nuovi. I Black Diamonds sono Fabio Periale "Starchild", Roberto Minato "The Demon", Massimo Meloni "The Spaceman" e Gilberto Puntillo "The Catman".
Tutti gli eventi sono ad ingresso gratuito.